The 2020 Ultra Music Festival will be canceled over concerns of the potential spread of the novel coronavirus.
Confirming what was reported by Trance Farm this week, Miami Mayor Francis Suarez officially announced that the three-day outdoor electronic dance music festival has been postponed for a year, effectively canceling the event.
City leaders cited guidelines from the Centers for Disease Control and Prevention for limiting exposure of coronavirus in communities where an outbreak has not occurred, particularly during large events with 25,000 or more people.
The Mayor went on to say, "We want to emphasize that this decision is not a cause for alarm or signal to panic, rather we are doing this out of an abundance of caution."
Regarding Ultra Music Festival, city leaders said they also considered the large international audience for the event, which attracts more than 100,000 people from more than 100 countries to the Greater Miami area.
Ticket Holders:
After Trance Farm and other news outlets reported on the cancellation earlier this week, the festival did not close ticket sales.
Shortly after the announcement, Ultra provided a statement on its website acknowledging the cancellation of the festival at Bayfront Park during March 20-22, 2020.
"We completely understand how extremely frustrating this is because so many of you are looking forward to coming to Ultra, having already made travel arrangements. All ticket purchasers will be contacted by email on Monday regarding next steps," the statement read.
Miami City Manager Art Noriega said he did not have specifics, but Ultra organizers intend to address ticket holders soon.
"They intend to refund tickets," City Manager Noriega said.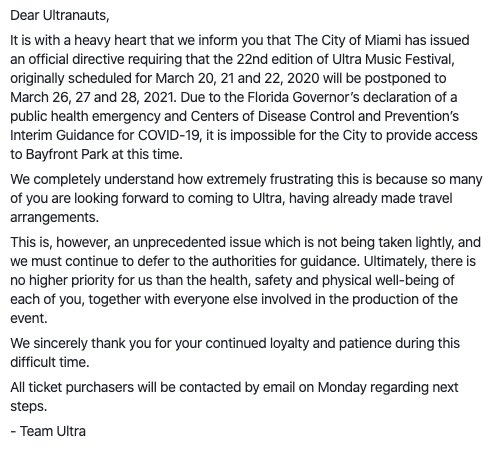 The high-profile announcement by the City of Miami-Dade Mayor Suarez differs from Miami-Dade County Mayor Carlos Gimenez.
Gimenez cited state guidance in stating his position that the county saw no need to cancel major events.
"We should live our lives normally. The risk is low," said Gimenez. "That could change tomorrow."
But the message of normalcy when it comes to events hasn't held in Miami-Dade, with its two largest cities taking unprecedented action in cancelling large gathering events, including Hialeah announcement of canceling all city-run events in March.
On Friday, the county-funded History Miami museum declared it was scrapping next weekend's Map Fair.
H/T Miami Herald